YAXUNAH ETHNOGRAPHIC PROJECT
A procession from the church at Yaxunah

Yaxunah is a small, traditional Yucatec Maya community in the state of Yucatan, Mexico. MRP's work at Yaxunah has been led by Dr. Grace Lloyd Bascopé for 3 decades. Grace originally came to Yaxunah as an ethnographer for David Friedel's Yaxunah Archaeological Project focused on the ancient Maya city of the same name adjacent to today's village.


Over the years, Dr. Bascopé has led ethnographic and, with the Botanical Research Institute of Texas (BRIT), ethno-botanical field schools in Yaxunah. After two decades, she asked members of the village what they wanted her to do next, they said they wanted a community center with resources for students and a museum about the community. The community center was opened in 2010 and now provides support for students and opportunities for the rest of us to learn about the people of Yaxunah.

The village of Yaxunah is home to more than 150 families whose first language is Yucatec Mayan, but almost everyone in the village knows Spanish as a second language. Traditionally, they subsist as corn, beans, and squash farmers. In recent times the community has looked for other work to be a part of the national/global cash economy. They have turned to carving wooden "Maya-esque" wall plaques and masks for tourist markets and have sought assistance from Non-Governmental Organizations and state agencies for community development projects. Yaxunah provides a unique vantage point from which to observe and learn about culture change as it happens.


The community of Yaxunah, in the central part of the state of Yucatán, México, lies approximately 19 kilometers southwest of the great Maya ruins of Chichén Itzá and is, itself, the location of a huge pre-Columbian site, ruins of colonial era haciendas, and the nearby church in the county seat of Yaxcabá. This church is laden with history, and its architecture is unique in all of México.

MRP team members learning from a Maya shaman at Yaxunah


The Yaxunah project is led by Dr. Grace Lloyd Bascopé, a medical and environmental anthropologist who has worked in Yaxunah and surrounding communities for nearly 30 years and Elías Alcocer Puerto, who holds a Master's of Science in Human Ecology and has done fieldwork in the region for almost as long. Dr. Bascopé has been a professor at both Texas Christian University and at the University of North Texas. While engaged in her own research, she conducted many field schools in the Yucatan for both of these universities, and has continued to foster graduate students during their field experiences. Elías Alcocer teaches at several universities in the Yucatan and is president of the Yucatan chapter of Partners of America. He works closely with several international NGOs and state agencies and is, thus, able to bring many resources to bear on the MRP projects in the Yaxunah area. Together, and under the leadership of community members, Bascopé and Alcocer built the Yaxunah Community Cultural Center which houses a small museum, has internet services, and is now a hub for educational and cultural activities for several closely associated villages
.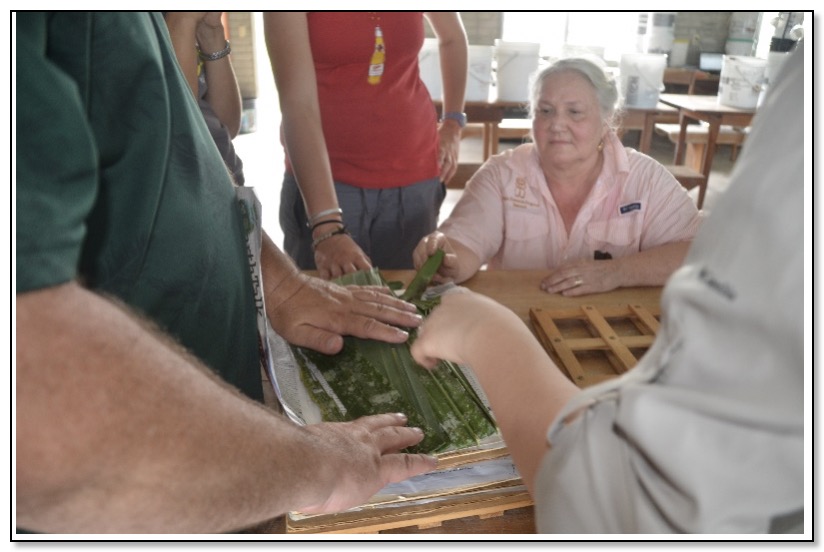 Grace Bascopé teaching MRP staff members botanical collection technique


At this time, MRP has no formal program for participants in Yaxunah. However, Dr. Bascopé has on-going work with the community and Sr. Alcocer is a full-time resident of Yaxunah. If you are interested in participating in the Yaxunah project, in changing your life by becoming engaged with programs of importance to others, and have skill-sets that can assist the community or our research, please contact Dr. Bascopé at 214-549-9013 or email her at
gbascope@airmail.net
.

Getting there: You can fly directly to Mérida (the capital of the state of Yucatan) from Houston (United, and sometimes American flies straight from Dallas to Mérida), or come through Mexico City or Cancún, then to Mérida.
Interested in joining the team? Call 817-831-9011 or email Dr. Tom Guderjan : mrpinquiries@gmail.com