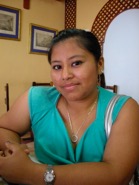 THE YOUNG MAYA STUDENTS OF YAXUNAH
Yaxunah is a Mayan-speaking village of 600 in the center of Yucatán. Families subsist on corn, beans, and squash produced in their own small fields, and on crafts made for the unsteady tourist market. Only recently have some Yaxunah students been able to go to high school. Though, ostensibly, education is free in Mexico, many parents can't cover the daily costs of transportation and the extra fees needed for their children to go the 20 kilometers to get to high school. Many never complete K-12.

DREAMS OF AN EDUCATION
To go to college is almost prohibitively expensive for Yaxunah young people. No government or bank student loan programs exist. Room and board, transportation to the city, books, and a number of fees make the burden on families practically impossible to bear.
YAXUNAH PARENTS DO ALL THEY CAN
Many parents work ceaselessly for several years to give their child a chance at higher education. Even so, if the young person manages to get through a majority of classes, fees to be permitted to sit final exams, a fee for a required intensive language proficiency class, and even fees for graduating and officially registering the degree, often mean studies are never completed. These last additional costs simply prove too much.


Heavy sacrifices, taking any jobs, working all hours, leave these rural families and the student physically and financially exhausted. This is particularly true if more than one child is involved. Heartbreaking stories abound – young people want to finish their degrees and want to return the support their families and villiage. Instead they drop out to relieve the burden on parents or help a younger sibling get a chance. They return to the fields or join the migrant stream north.

WHAT A UNIVERSITY EDUCATION COSTS
The amount of money needed to get a student through these last educational requirements is not great in comparison to American college costs. Depending on the degree, $1,200 to $1,500 US dollars is enough to complete a degree.

STUDENTS GIVE BACK TO THE COMMUNITY
For this financial support, students contract to return home to Yaxunah and provide community service. Graduates are supervised by the mayor. The number of hours and type of work required are specified in the loan contract, which is signed by student, parents, and community officials, and is legally binding.

GIVING TO THE YAXUNAH SCHOLARSHIP FUND FULFILLS DREAMS, IMPROVES THE COMMUNITY
Your donation helps a Yaxunah university student graduate. She/he has already proven her/his dedication. Your tax deductible donation will show support and get a truly deserving student to their goal.
$ 80. Pays to sit final exams
$100. Pays fees for the last term of college
$200. Pays for graduation fees and degree registration
$150. Pays for required language proficiency class and proficiency exam
$400. Pays board for the final 8 months of study
$300. Pays room rental for the final 8 months of study
$1,500 Will cover all costs to see that a Maya student graduates college


Please donate generously and change a life. Help a deserving Maya young person graduate from university and give service to improve the well-being of a whole Maya village.

All amounts are welcome and will be gratefully received.

Please click here to donate and support a Maya student!